Everybody enjoys a good excuse to dress up, and Halloween provides the ideal opportunity.
Why not dress your dog up in some of the best Halloween costumes for Cavapoos available if you don't want your four-legged companion to lose out on fright night?
There are several dog-specific Halloween costumes, ranging from scary to downright terrifying.
Allow your Cavapoo to participate in the festivities this year by dressing him or her up for Halloween with our tips and suggestions.
On October 31st, have some family fun with amusing spiders, spooky skeletons, and gorgeous pumpkins, depending on whether you want your Cavapoo to seem truly terrifying or just plain adorable.
The best Cavapoo Halloween costumes that are currently on the market are listed here.
Halloween Dog Costumes
Let me first start by saying that although Cavapoos love to be a part of family outings that not all of them like to wear clothes or costumes.
If your Cavapoo does not like to wear costumes then please don't force them to.
I have included some Halloween accessories that don't involve wearing a costume.
For dogs that love being the center of attention and don't mind wearing costumes, there is an array of Halloween dog costumes that has been selected below.
Just remember to take measurements of your Cavapoo around the collar, chest, and all the way down to the base of their tail before placing an order online.
My Top Amazon Picks
It was really difficult to limit my choices to only a few as there are so many awesome costumes to choose from but here they are:
Click on the photos to check prices on Amazon.
Click on any of the photos above to go straight to the relevant page.
Or click here for more options – Halloween costumes for dogs Amazon
My Top Picks From Chewy
Chewy has totally different dog Halloween costumes then what Amazon has so if nothing tickles your fancy then have a look at these: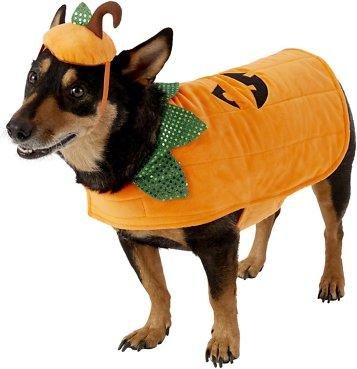 Halloween Dog Accessories – Amazon
If your Cavapoo does not like to wear costumes then you can consider looking at some accessories so he does feel left out.
I have chosen a few options for your consideration.
Click on the photos to check prices on Amazon.
Halloween Treats
Please be very careful and make very sure that your Cavapoo does not eat ANY of the treats handed out during Halloween.
These treats can be extremely harmful to your dog.
You can take some normal doggie treats with when the family goes out trick or treating and give your dog a treat now and again.
It is also important to let your children know not to feed any of the treats to your Cavapoo.
Conclusion
Halloween is for the whole family, even your fur kids.
So, don't forget to let them join in the fun.