Are you wanting to find the best dog beds for Cavapoos? I have always struggled to find the perfect one.
There are lots of different options and types to choose from which can be very confusing, especially if you are a first time owner.
I am here to help you sift through all the options to decide which one would be best for your Cavapoo.
In this post I will recommend the ones I believe are the best and I will cover topics like:
The different types of dog beds and which ones are best for your Cavapoo
How to determine if a dog bed is good or not
Choosing the right type of bed for your Cavapoo puppy (Must withstand puppy behavior)
FAQ's about the best dog beds for Cavapoos
And much more
Let's dive straight in!
Best Dog Beds For Cavapoos
There are quite a few different types of dog beds but the most popular and the ones I recommend are:
Calming Beds
Bolster Dog Beds
Orthopedic Beds
Beds For Crates
Cots
These are my top picks for each type of dog bed:
Each type has lots of options but here are my favorites:
Best Calming Bed For Cavapoos
Calming beds reduce anxiety and provides your dog with a sense of security.
Here is what I recommend:
Best Friends by Sheri The Original Calming Donut Cat and Dog Bed
Pros:
Plush vegan fur mimics their Mother's fur providing a calming space
Raised rim and super-soft filling provides head and neck support
Pet bed in Lux fur with a matching Lux fur pet throw blanket at a bargain price
Water and dirt-resistant bottom prevents any messes from reaching the floor
CoziLOFT fibers used to fill the donut cuddler keep their loft for up to 3x's longer than standard pet beds.
Cons:
Not chew proof
Can become matted after washing – dry on air fluff to avoid this happening
Who this bed is for:
This bed is perfect for adult and senior Cavapoos.
They will feel calm and relaxed as they snuggle into the soft bed. You will love how easy it is to keep clean. This bed is a huge hit with many dogs.
You can get this calming bed from Amazon here.
Best Bolster Dog Beds For Cavapoos
Bolster dog beds are very versatile and can be placed almost anywhere, even in a car.
I love the ones with sides as my dogs love to rest their heads on them.
I recommend this one:
JOEJOY Rectangle Dog Bed
Pros:
Raised four walls and pillow-like structure provide good support and cushion for the dog's head and neck
Covered in rose swirl short faux fur and cozy suede fabric, which is soft and warm
The non-slip bottom keeps the dog bed in place on tile and hardwood floors
Cozy interior offers a feeling of comfort and security
Non-Slip Backing so the bed does not move around and stays in one place
Cons:
Manufacturer recommends hand washing the bed
Not chew proof
Who this bed is for:
This bed is more suited to adult and older Cavapoos because it is not chew proof.
It is a super comfy and very plush comfortable bed that your dog will love and for the price point it is very well made.
You can get this bolster bed from Amazon here.
Best Orthopedic Beds For Cavapoos
Orthopedic beds are the Royals Royce of dog beds.
Not only are they a lifesaver for dogs suffering from arthritis, hip dysplasia and joint pain, they are invaluable for puppies as well.
It helps puppies keep their joints properly aligned while they are in the important growth stage.
Here is what I recommend:
BarksBar Gray Orthopedic Dog Bed
Pros:
Crafted with top-of-the-line workmanship and premium materials for superior comfort and durability
Extra Comfy Cotton-Padded Rim cushion to instantly contour to your pet's neck and head
Removable and Machine-Washable cover which can also be spot cleaned.
Will not lose it's shape overtime and will continue to contour to each and every crevice of your dog's body.
Cons:
More expensive than other beds
Not for chewers
Who this bed is for:
This bed is great for puppies, adults and especially senior Cavapoos.
A good night's rest is essential to your dog's happiness and well-being and this bed provides exactly that.
You can get this orthopedic bed from Amazon here.
Best Crate Bed For Cavapoos
Crate beds are made to fit inside your dog's crate so that they are more comfortable when confined.
I recommend this one:
MidWest Bolster Pet Bed for Metal Dog Crates
Pros:
Fits snugly in a 30″ crate or can be used as a standalone
Bolsters on all sides for your pup to use as a pillow
Completely Machine Washable – Cold, Gentle Cycle; Tumble Dry Low
Folds for Storage and Travel
One-Year, Limited Manufacturer's Warranty
Cons:
Not chew proof
Not as comfortable as the orthopedic bed
Who this bed is for:
This bed is perfect for any dog (Young or old) that spends time in a crate.
It can also be moved around and placed anywhere that you need a dog bed.
You can get this crate bed from Amazon here.
Best Cot Bed For Cavapoos
Although a cot is not technically a bed, I have included them as they are fantastic for outdoor use as well as for camping.
It might not look as comfortable as a normal dog bed but the mesh fabric is quite adequate for a nice nap.
Here is what we recommend:
Coolaroo The Original Cooling Elevated Pet Bed
Pros:
Off-the-ground design promotes and increases air flow
Breathable fabric eliminates hot spots
Easy to wash HDPE fabric and steel frame
Lightweight, powder-coated steel frame will last in the outdoor elements
Cons:
Not as comfortable as a bolster or orthopedic bed
Assembly might be challenging for some people
Who this bed is for:
This bed is suitable for all life stages of your Cavapoo.
Consider buying one to place on your patio, near the pool or where the children run and play outside.
You can get this cot bed from Amazon here.
Other Types Of Dog Beds
Besides the 5 types mentioned above, you can get a few other types as we..
You can get a pet sofa bed that looks just like a miniature sofa to really pamper your best buddy.
There is also a cave bed for those Cavapoos that like to bury themselves into their beds or those that are easily frightened.
You can even get a dog bed that looks like a dog house. (Only for dogs up to 16 pounds)
Best Dog Beds For Cavapoo Puppies
Puppies chew. There is no getting away from that.
Even the most well behaved puppy will chew at some stage and especially when they are busy teething.
Other factors to keep in mind:
Is there a risk of your pup peeing on the bed?
What size bed should you get for a puppy?
Will the bed be torn up and can the stuffing hurt your pup?
Is it normal for puppies to pee on their bed?
Puppies normally do not like to pee where they sleep.
So, your puppy should not pee on it's bed.
However, if they really cannot hold it in anymore then they might not have any other option but to pee on their beds.
What size bed should you buy for your puppy?
Puppies grow quickly in size so my advice is to buy a bed that they can grow into.
You can always add some extra blankets or a pillow to take up some of the space while your puppy grows.
Do puppies chew their beds?
Puppies explore the world by using their mouths'. Invariably this means chewing on an object to find out what it is and if it can be eaten.
They also go through a teething phase when their gums are tender and sore. Chewing relieves some of the pain.
For these reasons, a lot of puppies will chew their beds.
Choosing The Right Bed For Your Puppy
When your puppy is very young and is still being potty trained then I would suggest buying just the crate bed for now.
The risk is too high that they will chew and destroy any nice bed you buy for them now.
Once they are past the chewing and teething phase then they will deserve a nice bolster or orthopedic bed.
Puppies are able to sleep anywhere and will find any spot to take a nap.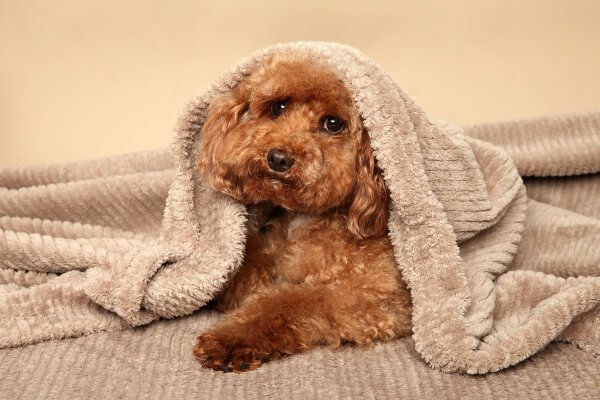 Cavapoo Dog Bed FAQ
What beds are best for Cavapoos?
You can go with any of the beds mentioned in this article but I must admit that I have a soft spot for the calming bed as it looks so comfortable and soothing.
What size bed does a Cavoodle need?
Cavapoos are generally medium in size so look at medium sized beds. If your Cavapoo has a standard poodle as one of it's parents then you will need to buy a larger one.
Do dogs prefer hard or soft beds?
A very hard bed might not be the best option for your dog. You will sometimes see your dog lying on a hard surface but for them to have a good night's sleep, they need the comfort of a dog bed.
Do dogs need blankets to sleep?
Dogs definitely need blankets in winter to keep warm. A blanket is not needed in summer as it might be too hot for your dog.
Is it OK to move a dog's bed around?
Yes, it is perfectly fine to move a dog's bed around but for convenience sake I have a bed in my bedroom, a few in the lounge and another two in the kitchen. This way I don't need to worry if my dogs have a place to sleep wherever they are.
What makes a good Cavapoo dog bed?
When choosing a bed for your Cavapoo there are 4 factors that you should consider:
It must be comfortable. If it is not then your dog will not sleep in it.
It must be easy to clean as your dog could vomit, pee on it or have a bout of diarrhea.
It must be suitable for their age. Senior dogs benefit greatly from an orthopedic bed.
It must be durable. Most people cannot afford to replace a bed every few months.
Summary
A good dog bed will help your Cavapoo have a great night's sleep ensuring optimal health and well-being.
As a recap, these are my top picks:
Remember that when choosing the right dog bed for your Cavapoo, make sure it is durable, easy to clean, comfy and applicable to their age.
If you are not sure how many hours your Cavapoo should be sleeping in a day then please read this post – How Long Should A Cavapoo Sleep?