Dog gates are extremely useful items to have in your home.
Do you need to block off an area in your home? Are you worried about your Cavapoo running out the door and into the busy street?
Dog gates can be used to block off a room, stop a puppy from falling down the stairs and prevent them from gaining access to an area that could hurt them.
The best part is that they can also be very effective for potty training or if you need to leave your dog alone while you are at work or running errands.
I presently use two dog gates in my house. The one gate stops my dogs from gaining access to the garage and running into the street and the other gate prevents them from entering the kitchen.
In this article you will learn the different types of dog gates and which one would suit your dog and situation the best.
But first, let's talk about the best dog gates for your Cavapoo.
Which Dog Gate is Best for My Cavapoo?
Here are the best dog gates for Cavapoos:
A good dog gate should keep your dog confined at all times. It should be strong and give you peace of mind that it will do its job and not let your dog escape.
Following are some dog gates that I recommend.
Here's a closer look at them:
Regalo Extra Wide Baby Gate – My Top Pick
This is a high-quality durable steel pet gate that will fit most openings and it is certified to both JPMA and ASTM standards.
The design has a walk through door that can be opened using only one hand which is really useful if you are holding a cup of tea or cradling a baby.
The gate stands 30 inches tall and has vertical bars that will prevent your Cavapoo from climbing over the gate. The space between the bars is 2.5 inches.
It includes a 6-inch wide extension kit and 4 pressure mount spindle rods but can accommodate an extra 3 extensions if needed.
The Regaldo Extra Wide Baby Gate has a pressure mount design that is quick to set up.
This gate is suitable for door openings, bottom of the stairs and hallways and is what I use in my own house.
I don't have this exact make but the gates I use are very similar and based on the same function and design.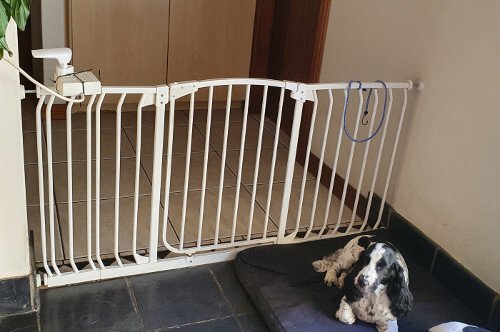 You can buy additional wall mount protectors to prevent marks and damage to the walls. It works on both the top and bottom spindles.
Wall Nanny – Baby Gate Wall Protector
These protectors also make the gate more secure and not allow it to topple over.
MYPET Portable Pet Gate – Best plastic dog gate
The 23-inch-high, quickly adjustable Paws Portable Petgate is a gate that will keep your pet safe and secure while establishing boundaries around the house.
It is made from strong durable plastic and has a light gray finish.
You'll enjoy how simple it is to use this pet gate—just expand it into the opening and secure it. The EZ track takes care of everything.
The panels easily expand and contract this gate as they glide along the track for the ideal fit.
Neither assembly nor tools are required. Use it in areas that are 26 to 40 inches broad, such as doorways, hallways, and other areas.
The paw print and bone pattern make this gate a fun addition to any space, and the curved handle makes it easy to lock in place.
Rubber bumpers protect surfaces, and they are positioned higher than typical gates to fit molding up to 4 inches high.
This is not a very high gate so it should only be used for Cavapoo puppies and small dogs.
Pet Gate Collection Foldable Freestanding Pet gate
I just want to be clear about this dog gate – it is not suitable for medium or larger sized dogs as it can be pushed over.
However, they can work for puppies and smaller Cavapoos.
This gate stands 24 inches tall and the slats on the gates are 2 inches apart. It is light weight and can be easily stored.
It is made from wood with a white finish. You need to set it up as an accordion so it will stand correctly.
This gate, in contrast to standard dog gates, does not require installation, which eliminates the risk of property damage to your house while making it super easy to set up.
You can purchase additional feet that will make the gate more secure.
WELLAND Support Feet
Simply slide feet down over the bottom frame of your gate or extension.
Add a pair of these sturdy support feet to provide extra stability and prevent tipping.
Overall dimensions: 11.81″ W x 0.71″ T x 2.76″ H. Slot: 0.75″ W
Regalo 36″ Extra Tall Walk Thru Baby Gate
The Regalo Easy Step Extra Tall Baby Gate is built entirely of steel and is simple to assemble.
It can be removed just as quickly.
The fit can be made sturdy and secure by adjusting each of the four pressure mounts. If you would rather mount it to the wall, use the wall cups that are included.
The Easy Step Extra Tall Baby Gate, which is 36″ tall, prevents your dog from climbing up and over and stretches to accommodate a range of openings between 29 and 36.5″.
It comes with a 4″ extension, and wider spaces can be accommodated by adding extra extension kits, which are available for purchase separately.
Gaining access is easy with a handy walk-through door and a one-touch release safety lock on the lever handle.
This extra tall gate is great for larger Cavapoos, especially cuddle Cavapoos.
Perma Indoor/Outdoor Retractable Baby Gate
If you don't like the look of a dog gate and would prefer something a little less obtrusive then the Perma indoor/outdoor retractable gate could be the solution.
It does need to be permanently installed so please keep this in mind.
The components for this Extra Wide Outdoor Retractable Gate's quick installation include screws, catch mounts, wall spacer shims for the baseboards, and installation manuals.
It can open to a width of 71″ but some reviewers advise against going this length as you do need to use two hands to open the gate and the distance will be an issue.
If you are wanting to use it in a smaller area then it will work perfectly.
The gate stands at 33 inches tall and is made from ABS plastic and polyester.
Different types of dog gates
Dog gates are made from wood, plastic, metal or a combination of mesh and plastic.
There are permanent options available that can be installed and never removed or you can look at freestanding and pressure-mounted dog gates that can be easily removed and installed without using any tools.
Avoid using the wood and plastic types if you know that your dog is a chewer. In this case, a metal dog gate is the best option.
Likewise, if you are planning on constantly moving the dog gate to a new position then a free standing one will work a lot better.
When to use a dog gate
A dog gate becomes a very useful product if you have multiple dogs, a new puppy, human baby or visitors that are not keen on your dog's greeting and jumping up on them.
Below are some scenarios that dog gates can solve:
You need workman to fix stuff in your home and you need to keep your dog away from them
Your dog is anxious around visitors and prefers to be kept away from them
Your visitors are not dog people and are not happy for your dogs to run around them
You have a toddler or baby that cannot be left unsupervised around your Cavapoo
You have to go to work and a crate is too small for the amount of time you will be gone.
Your home is multilevel and you would like your dog to stay on the one level
Your home has carpeted floors and your dirty and muddy dog first needs to be washed before being allowed in
Your new puppy needs to be toilet trained and kept away from hazards like electrical cords
You need to block off stairs so your senior dog or puppy cannot fall down them
You don't have an enclosed garden and your front door leads straight onto a busy road
Your dog has had surgery or has been injured and needs to be confined to a small area like a bathroom
Any one of these scenarios can warrant you installing a dog gate. The next decision that needs to be made will be to decide which gates will serve your needs the best.
How to choose the best dog gate
The most important aspect to me is sturdiness. The last thing you want is for your puppy or dog to lean against the gate and it falls down.
The gate must be strong and secure so avoid flimsy gates.
There are other aspects to consider:
If your dog is a climber then choose a gate with vertical bars so he cannot climb up them.
A gate with a door that can be opened single handed is a must if you have a baby in your arms as it will be dangerous for you to have to step over the gate.
If you don't own the house and are only renting then a free standing or pressure-mounted dog gate is best option.
Measure the width of the area that you want to enclose with the dog gate. If the opening is quite wide then choose a dog gate that has extensions to fill the space.
If the gate is for outside use then choose a metal one that is rust proof.
For Cavapoos that are good at jumping go for an extra high gate to stop him from jumping over.
A dog gate that is being used in an area of the home where visitors walk around needs to also look good so avoid cheap and nasty looking gates.
Conclusion
I cannot do without dog gates and I think you will feel the same way.
The peace of mind knowing that your Cavapoo is safe and secure is undeniable.
For the most peace of mind I highly recommend and strongly suggest that you get either the Regalo Extra Wide Baby Gate or the Regalo 36″ Extra Tall Walk Thru Baby Gate as both these gates are very strong and well made.
You won't regret it!